PROTECT YOUR LIEN RIGHTS!
This program offers material suppliers, capital improvement manufacturers and contractors the added protection of information/bond claims, lien protection, and/or preliminary notice services.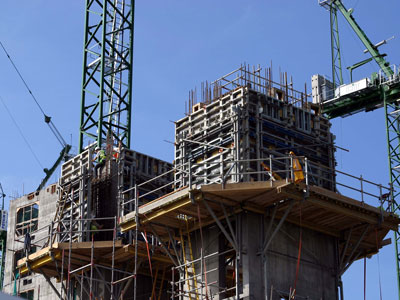 Fill out the Lien Assurance Form. We will send a confirmation that it was received. Or fax your Lien Assurance Form to 800-873-5211.  Or call us at 800-873-5212 to speak with Valerie Ingold.
We will research the lien laws within that state to determine what type of notice is necessary, time limits in which we need to respond and what other specific information is necessary to protect your lien rights.
We follow up based on the ship date or discussions with you to determine if the deal was approved and/or shipped.
Depending on your company needs, we have the capability to follow your project until completion and we will maintain a tracking system that will allow us to notify you in sufficient time to act upon your lien rights.
If necessary, we will hire a Commercial Law League Bonded Attorney to handle your lien filing
and will proceed upon your approval of attorney charges.
If you choose, we will handle the collection of the account at our normal collection rates.
We also provide online access to our system so that you can track your projects submitted to us at no additional charge.
PRELIMINARY NOTICE:
For states where notice is required, we will send the statutory notice to protect your lien rights.
BOND RESEARCH:
We determine if a bond is available, obtain a copy, and provide an assessment of your protection and notice requirements before the deal is made.
LIEN INVESTIGATION:
Like a bond research, we determine if a lien is appropriate and advise if you will have adequate protection.
FILE LIEN:
On those matters where you haven't been paid, we will hire an attorney in the jobsite state who specializes in lien filings.
BOND CLAIM:
We will file a bond claim on behalf of your company if payment is not received from your customer before the deadline.
NON-STATUTORY NOTICE OF INTENT TO LIEN:
On those occasions where a preliminary notice is not a statutory requirement or was not sent, this notice can provide the push to get your account settled.